CRACKERS FROM FLAX SEED FLOUR
Light. Delicious. Healthy
Whether as a light morning breakfast, a bite after a workout, or a snack on-the-go, the deliciously crispy Bikurei Pishtan crackers contain all the good this miraculous grain has to offer – and much more.
The crackers are a fantastic source/basis for a balanced and satisfying diet for diabetics, athletes, vegans and more. With added omega 3, no preservatives, and all-natural ingredients, we baked these prime seeds for a nutritious, delicious and satisfying meal.
Less than one carbohydrate
The flax cracker contains less than one carbohydrate per cracker, making it the ultimate snack for a low-carb diet for those who wish to maintain a long-lasting healthy weight, and prefer healthy high-quality food.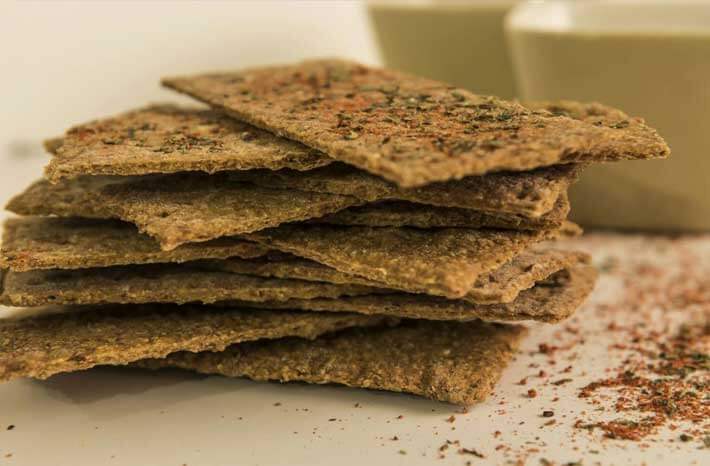 Nutritional facts
Serving size 9g
| | |
| --- | --- |
| Energy (calories) | 42.3 |
| Protein | |
| Total carbohydrate | 0.9g |
| Sugar | 0 |
| Dietary Fiber | 1.5g |
| Total Fat | 2.2g |
|          Saturated Fatty Acid | 1.8g |
|          Trans Fatty Acids | less than 0.5g |
| Cholesterol | less than 2.5mg |
| Sodium | 57mg |
Flaxseed flour (35%), water, wheat gluten, rye sourdough (contains gluten), salt, sweetener (maltitol), acetic acid, yeast.
This product includes the following allergens: gluten (wheat, rye), soy
May contain: gluten (oatmeal), sesame, nuts (pecan, walnut), eggs
Weight of product: 150g
Want to learn more about our baked goods?
The outer shell of flaxseed is a good source for dietary fiber and the heart of the seed contains numerous vitamins and minerals alongside fat, lignins, protein and more, which provide a healthy nutritional foundation for athletes, diabetics and more.
We didn't invent this wonderful concoction. All we did was bake it for you in a healthy and satisfying way.